90 Series Stainless Steel Vertical Float Switch
Product Description
The 90 Series Liquid Level Sensor is a vertically mounted Stainless Steel float switch, offering high durability and reliability, making it ideal for most applications.
Download 90 Series Datasheet.pdf
Features Include:
Vertically mounted 316L Stainless Steel miniature liquid level sensor.
Coupled with a choice of switching options this design is ideal for food, automotive, petroleum, chemical and laboratory applications.
Normally open circuit with no liquid. This can be reversed by removing the split pin and rotating the float.
Available with form A (SPST) or form C (SPDT) contacts.
A 1 meter cable is provided as standard. For custom cable lengths, please contact the sales office.
Switch Contact Ratings
Form A switches are rated at 240v AC/ DC, 50 Watts, 1.0 Amp resistive load only.  All Form A variations have 16/0.2 PVC insulated wires.
Form C switches are rated at 50v AC/ DC, 10 Watts, 0.25 Amp resistive load only.  All Form C variations have 24AWG, 7/0.2 PTFE insulated wires.
Ordering Code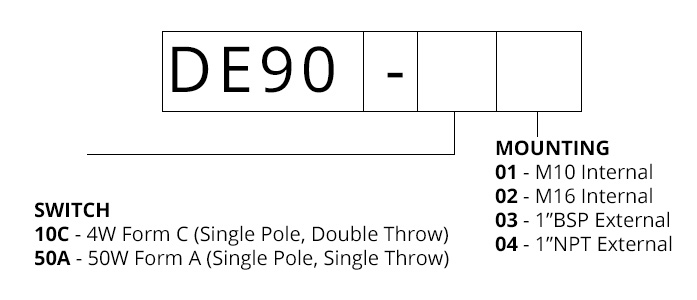 Example: DE90-50A describes a sensor with an M10 thread, Form A switch rated at 50 watts.
Custom stem lengths and switching points are available. Please contact the sales office for more information.
 All electrical equipment should be installed by a qualified/certified electrician. Reed Switches are easily damaged by inductive loads. Please ensure adequate electrical protection is in place before use.
* Deeter Electronics Ltd follows a policy of continual development of its products and reserves the right to change specifications and/or features without notice.