80 Series Stainless Steel Horizontal Float Switch
Download 80 Series Datasheet Download 80 Series High Temperature Datasheet
Product Description
The 80 Series Stainless Steel Horizontal Float Switch is a Liquid Level Sensor manufactured in 316L Stainless Steel, making it ideally suited to high temperature or pressure operation. It is also suitable for harsh environments and chemically aggressive liquids. It can be changed from Normally Open to Normally Closed operation to allow for sensing of high or low conditions by rotating the orientation of the body through 180°. It is available in two versions dependent on temperature requirements: our Standard version rated to 120°C, and our High Temperature version rated to 200°C. The HFS-FP version of this product is ATEX certified for use as Simple Apparatus in Intrinsically Safe Systems.
Applications
Ideal for use in Beverage, Automotive, Pharmaceutical, Petroleum and Chemical Industries.
Technical Data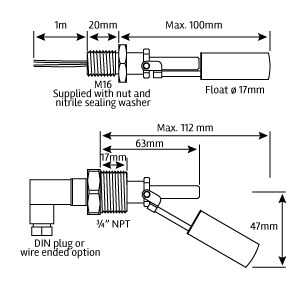 Switch contact rating (pure resistive load).
For other loads ie. capacitive, inductive or incandescent lamps please contact Deeter for advice.
50 Watts max. Form A SPST Contacts 250vAC max. switching voltage 1.0 Amps max. switching current. 10 Watts max. Form C SPDT Contacts 60v DC max. switching voltage 200v DC breakdown voltage 1A max switching.
Cable type
Black P.T.F.E insulated 7/0.2mm rated to 200°C max
Cable length
1 metre
Operating Pressure
350 p.s.i (2400 kPa)
Operating Temperature
-20°C to +120°C (Standard version)
-20°C to +200°C (High Temperature version)
Specific Gravity of float
0.9
Mounting Detail
M16 or 3/4″NPT for external mount option
Maximum Tank Wall thickness
8MM (internal mount only)
Wetted Materials
316 Stainless Steel
Weight
80g
Ordering Code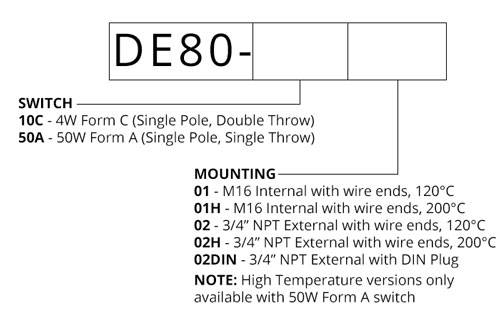 Download 80 Series High Temperature Datasheet
For more about Float Switches click here.
All electrical equipment should be installed by a qualified/certified electrician. Reed Switches are easily damaged by inductive loads. Please ensure adequate electrical protection is in place before use.
* The Deeter Group follows a policy of continual development of its products and reserves the right to change specifications and/or features without notice.