RPS-409A-IS2 Intrinsically Safe Self-Contained Ultrasonic Sensor
Product Description
Manufactured by Migatron Corp and distributed by Deeter Electronics, these Intrinsically Safe ultrasonic sensor have ANZEx, ATEX, cUL, & IECEx approvals for use in Hazardous (Classified) Locations
Features Include:
ANZEx, ATEX, cUL and IECEx Approvals
Intrinsically Safe
Analog Voltage Output
Sync/Tx Input Line
Various Sensing Ranges
Wide Temperature Range
Temperature Compensation
LED Indicator
PPS Enclosure
The RPS-409A-IS2 is an intrinsically safe analog ultrasonic sensor available in a variety of ranges. The RPS-409A-IS2 sensors can be used in hazardous gas or dust environments classified as Zone 0, 1, 2, 20, 21, or 22 for ATEX/IECEx, and Class I, II, or III for UL/cUL when used with approved intrinsic safety barrier(s). See the RPS-409A-IS2 User Manual and Control Drawing No. Ex05021114 for further information on installation in hazardous locations. The sensor is self-contained in a 30mm barrel style enclosure, and is powered by 16 – 30 V dc with reverse polarity protection.
The RPS-409A-IS2 has a short circuit protected 0 – 10 V dc analog output. The analog voltage is a fixed volts per inch based on the maximum range of the unit. For example when using the RPS-409A-80-IS2, the output is a linear 0.125 V per inch. A target placed 10 inches from the sensor will result in an output of 1.25 V or a target placed at 80 inches from the sensor will result in an output of 10 V.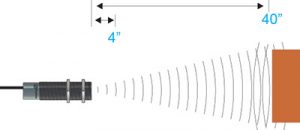 The RPS-409A-IS2 has built-in temperature compensation to provide accurate readings throughout the entire operating temperature range. An LED indicator is provided. The LED is green with no target detected and changes to red when a target is detected. The sensor is completely sealed and connection must be made with a cable having a rating of IP67 or greater. In addition to the analog output line the sensor also has a Sync/Tx line. This line can be used for connecting multiple sensors together (Sync) to prevent cross talk, or to control when the sensor transmits (Tx).
The RPS-409A-IS2 is designed to take advantage of today's PLC and computer analog input cards. The numerical values that are programmed into the PLC or computer will determine the zero and span of the sensor.
Specifications
| | | | | |
| --- | --- | --- | --- | --- |
| Model Number: | Sensor Range: | Transducer Frequency: | Response Time: | Volts Per Inch: |
| RPS-409A-40-IS2 | 4-40″ | 175kHz | 100ms | 0.250 |
| RPS-409A-80-IS2 | 6-80″ | 135kHz | 100ms | 0.125 |
Entity Parameters
See Control Drawing No. Ex05021114
Power Input
16 – 30VDC Reverse Polarity Protected

(A minimum of 24VDC must be applied to

the power barrier)

Input Current
24mA maximum with 24VDC applied to the power barrier
Ambient Temperature
-40 – 60°C or -40 – 140°F
Humidity
0 – 95% Non-Condensing
Enclosure Material
Polyphenylene Sulfide (PPS) Enclosure

with PPS and PTFE sensing face

Output
Analog Voltage Output 0 – 10V

(Load 100k Ohms to infinity)

Short Circuit Protected

Approvals
Australia and New Zealand – ANZEx 13.3010X Ex ia I Ma, Ex ia IIC T4 Ga, Ex ia IIIC T101°C Da

Canada and USA – UL/cUL File # E226209

CL I, GPS A,B,C,D; CL II, GPS E,F,G; and CL III

Europe (CENELEC) – DEMKO 12 ATEX 1103028X

Ex I M1 / II 1 GD

IECEx – IECEx UL 12.0001X (

Download RPS-409A-IS2 IECEx Certificate

)

Ex ia I T4 Ma, Ex ia IIC T4 Ga, Ex ia IIIC T101°C Da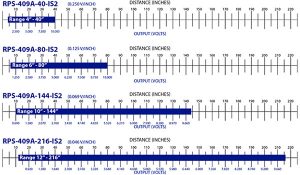 Range Chart


Mounting Dimensions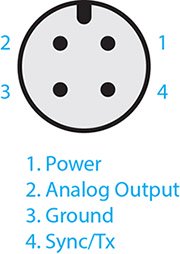 Pin Assignments
Ordering Code
Part Number
Range
Output/Description
RPS-409A-40-IS2

RPS-409A-80-IS2

4 – 40″

6 – 80″

0 – 10VDC Analog Output

0 – 10VDC Analog Output

F32-5496302

F32-5496305

ZSB-409A

2 meter Cable, M12 4-PIN, IP67 18 AWG – Sold Separately

5 meter Cable ,M12 4-PIN, IP67 18 AWG – Sold Separately

3-Channel DC Positive Polarity Zener Safety Barrier
Download RPS-409A-IS2 Datasheet
Download RPS-409A-IS2 ATEX Certificate
Download RPS-409A-IS2 IECEx Certificate