70 Series Stainless Steel Horizontally Mounted Vertical Float Switch
Product Description
The 70 Series Float Switch is a horizontally mounted vertical liquid level sensor manufactured in 316L Stainless Steel, making it ideally suited for use in high temperature or pressure environments. It is also suitable for use in chemically aggressive liquids, and can be changed from Normally Open to Normally Closed operation to allow for sensing of high or low conditions by rotating the orientation of the body through 180°. It is available in two versions dependent on temperature requirements: our Standard version rated to 120°C, and our High Temperature version rated to 200°C.
Applications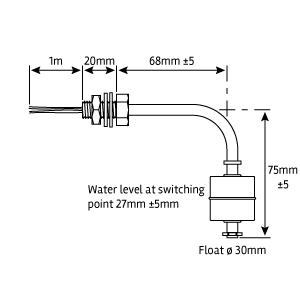 Ideal for use in Beverage, Automotive, Pharmaceutical and Chemical Industries.
Technical Info
The 70 series is a small side mounted vertical liquid level sensor designed for high temperature/high pressure operation and sensing chemically aggressive liquids. The design provides a cost effective solution where high reliability in a demanding environment is called for. It is ideal for applications in food, automotive, pharmaceutical and chemical industries. As shipped, the float switch is Normally Open and closes on rising to the switching point. This can be changed to Normally Closed and open on rising by inverting the float on the stem.
Suitable Specific Gravity
0.8
Maximum Pressure
10 bar
Operating Temperature
-20°C to +120°C (Standard version)
-20°C to +200°C (High Temperature version)
Cable length*
1 metre
Cable type
Black P.T.F.E insulated 7/0.2mm rated 6A at 250vAC
Weight
30g
Tank Wall thickness
5MM max.
Mounting
M10 x 20mm
Wetted Materials
316 Stainless Steel
*other lengths available on request
Ordering Code

Download the 70 Series Datasheet  Download the High Temperature 70 Series Datasheet