DCS Continuous Capacitive Sensor
Product Description
The Deeter Capacitive Sensor (DCS) is a reliable alternative to our range of float switches, specifically designed for use in cryogenic applications and other non-conductive liquids. With no moving parts, accurate level measurement takes place within the custom length hollow probe. The open ended probe allows liquid to flow in and out from the bottom of the sensor where turbulence is at a minimum, making it ideal for use in fast flowing or turbulent applications.
Download DCS Continuous Capacitive Sensor Datasheet
Download DCS Continuous Capacitive Sensor Manual
Features Include:
– Microprocessor Based Pulse – Counting Technology
– Probe Lengths can be made to measure to suit specific applications – maximum 6m
– Suitable for non-conductive liquids only.
– Easy Push Button Set-up of Span and Zero Points.
– Zero-low maintenance required.
– Soon to be available with ATEX/ IECEx Ia certification. Please contact the sales office for more information.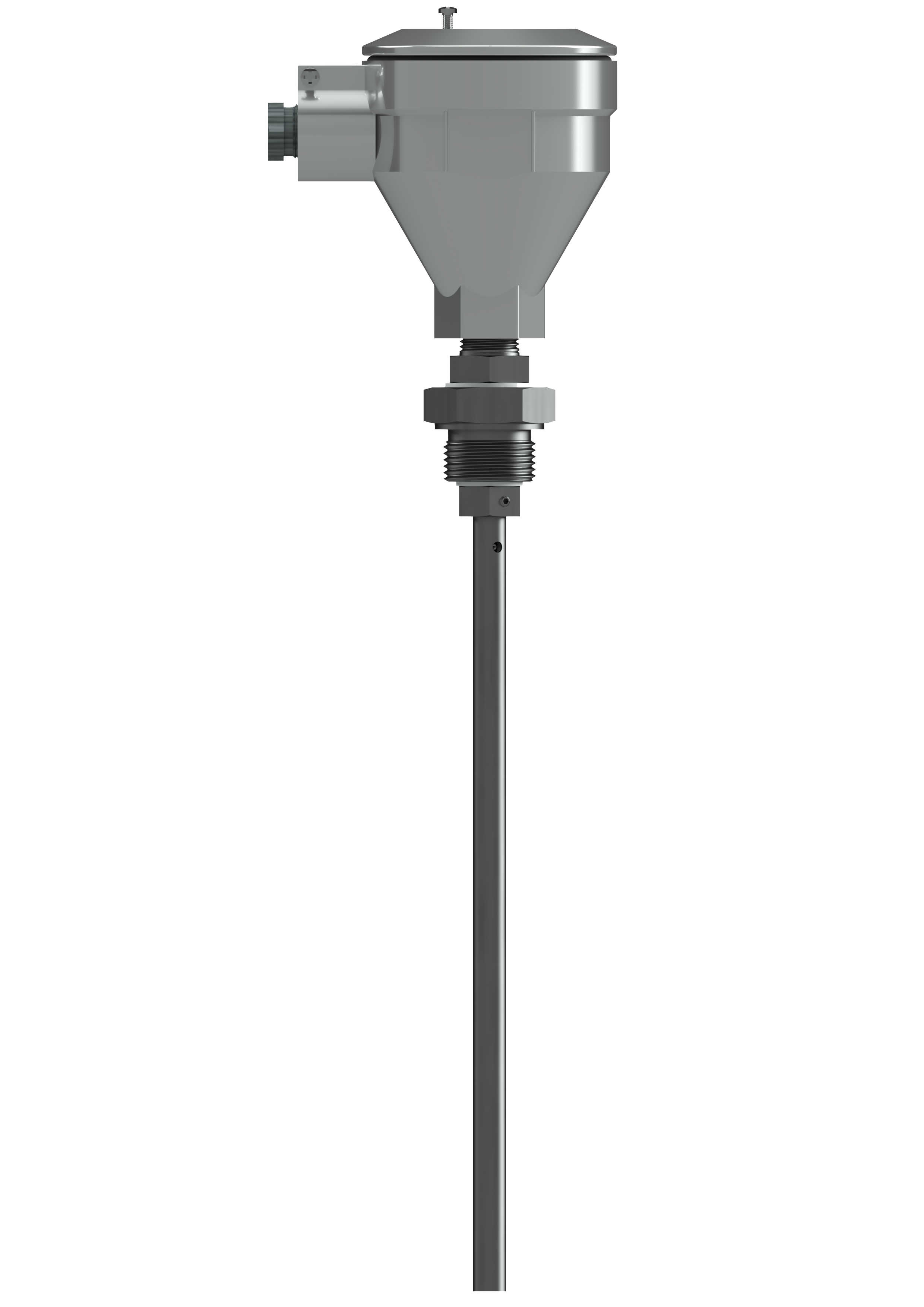 Specifications
ELECTRICAL DATA
Operating Voltage
15 – 30VDC
Operating Current
< 50mA
Stem Capacitance (Air)
< 150pF /m
Resolution
< 2mm +/- 0.5mm
Operating Temperature (Head)
-20°C to +85°C
Stem Temperature (Standard Version)
-40°C to +120°C
Stem Temperature Limits (Low-temp Version)
-200°C to +200°C
Output Accuracy
±1% @ 50% full scale deflection (20°C)
Current Output Signal 1 two wire
4 – 20mA
Voltage Output Signal 2 two wire
0 – 10Vdc
Zero, Span
4 – 20mA
Calibration (Zero, Span)
Stored in NVM
Dielectric Constant of Liquid (- Ꜫ -)
> 1.4
Response time (currently)
1000ms
Response time (enhanced)
250ms / 500ms
MECHANICAL DATA
Max Operating Pressure (at ambient temperature with 1″ thread)
10 Bar
Enclosure Rating
IP66 / IP68
Electrical Connections
Screw Terminals
Head Material
Aluminium (316L version available)
Stem Material
316L Stainless Steel
Other wetted parts
PTFE
Maximum Stem length
Up to 6m
Mounting Orientation
Vertically
Cable Entry
M20 x 1.5p with cable gland fitted for 6-8mm cable
Mounting Thread
1″ BSP Parallel (standard, other threads available)
EMC Standards
EN61000-6-1, EN61000-6-2, EN61000-6-3, EN61000-6-4, EN61000-4-2
Download DCS Continuous Capacitive Sensor Datasheet
Download DCS Continuous Capacitive Sensor Manual
Ordering Codes
Please contact the Sales Office on 01494 566 046 or [email protected] to discuss your exact requirements.