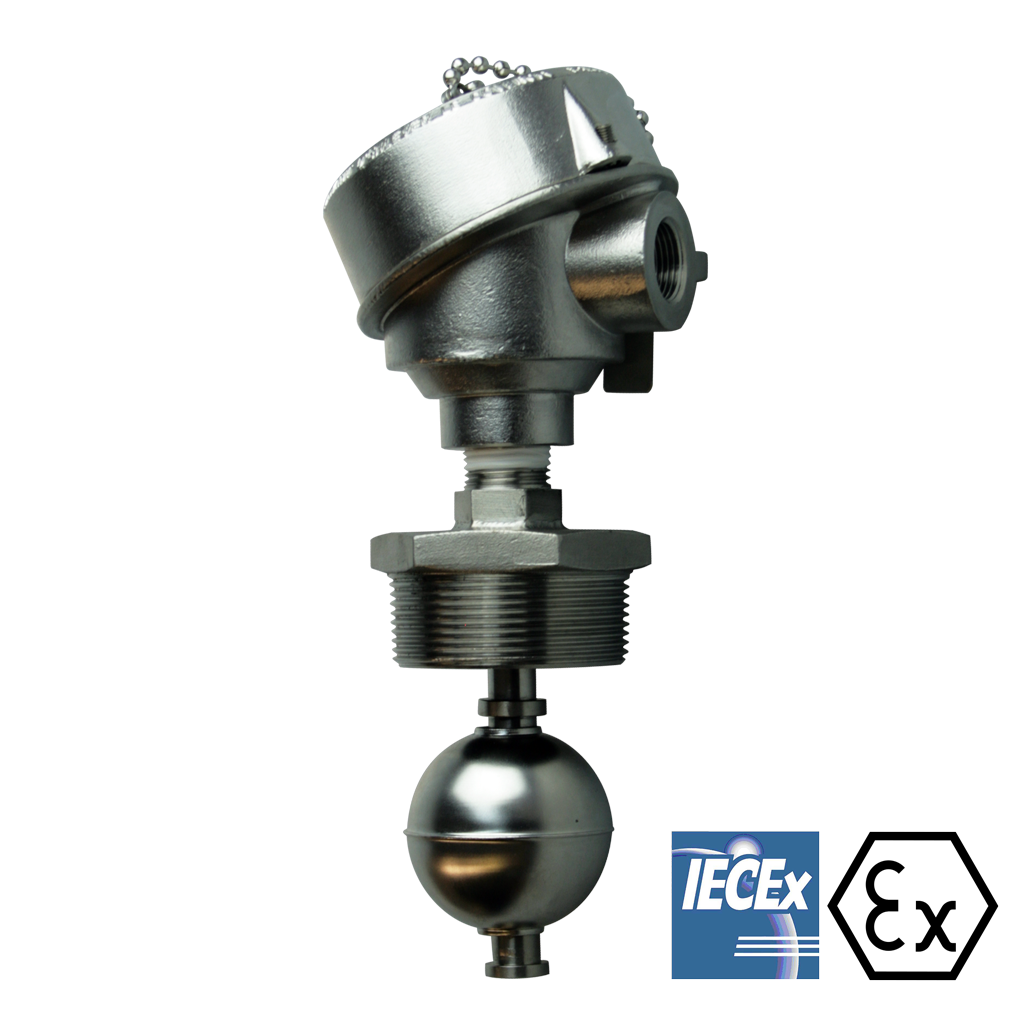 Our extensive expertise in the design and manufacture of Hazardous Area Liquid Level Sensors enables us to give you the advice and guidance that you require – ensuring that you receive the best solution when deciding how best to measure and control a liquid in a Hazardous Area. Our ATEX and IECEx certifications mean that we are able to offer a solution for most regions worldwide.
We can support you from the initial enquiry through to the design and manufacture of the ideal level sensor for your application. We can ensure that you select the most appropriate sensor and design it with the restrictions and specifics of your application in mind. We can offer a range of customisations including mounting types and thread options, and our certifications allow use across a broad range of temperatures, pressures and liquids.
Our LVCS-FP Ex d Continuous Vertical Level Sensor can be specified in lengths up to 4 metres dependent on the application and can be delivered with 0-2V, 0-5V, 0-10V or 4-20mA outputs. Our FS-FP Ex d Vertical Float Switch can be specified with stems up to 4 metres in length and up to 7 switch points on the stem, each of which can be either normally open or normally closed. For both sensors we are able to offer a variety of floats with different specific gravities dependent on the liquid. These flexible design options allow our sensors to be specified for a wide range of applications.
Popular applications for our Hazardous Area sensor range include the measurement and control of Oil, Petrol and various other liquids across industries including Petrochemical, Aerospace, Breweries and Marine.
Our custom sensors are designed and manufactured specifically for each customer but retain our competitive prices and fast lead times. Our specialism in bespoke liquid level sensors ensures that we can advise on the most suitable sensor for the application. All of our design and manufacturing operations take place at our UK headquarters in Buckinghamshire.
Other products
As well as our ability to design and manufacture custom ATEX and IECEx certified level sensors, we also have a large range of standard sensors, such as our ATEX approved HFS FP range of horizontal level sensors. The HFS FP is available in multiple mounting configurations and can be used in potentially explosive atmospheres in conjunction with an intrinsically safe barrier.
With this ATEX approved level sensor you have a low cost option when your access to the liquid vessel is only from the side.