LVCSi Continuous Vertical Level Sensor with Integrated Display and Temperature Sensing Option
Product Description
The LVCSi is an analogue vertical level sensor with an integrated display meter and output driver specifically designed for continuous, in-situ monitoring of your tank. It is an extension of Deeter Electronics' range of LVCS analogue level sensors and includes a temperature sensing option.
LVCSi features include:
Temperature sensing option available
A display for direct read-out of level and temperature
Two pairs of analogue outputs (4-20mA and 0-10V)
Two digital outputs (set point)
An RS485 communications port
IP rating of IP68
Stem lengths up to 2000mm
Modbus optional

Our sensor can be used in a vast variety of applications and is ideally suited for use in:
Petrochemical environments
Solvent and chemical control
Liquid inventory, waste and media management
In-situ monitoring
Common industries for this product include:
Food and beverage industries
Oil and gas industries
Automotive industries
Waste Management
The LVCS range of analogue level sensors feature a magnetic float moving along a stem to provide a continuous analogue output that indicates liquid level. Sensors in the stem detect small step-changes in level and the output gives a continuous analogue signal.
The following range of user-selectable analogue outputs are supplied as standard: 0-2V, 0-5V, 0-10V and the industrial standard 4-20mA current loop. Level outputs can be inverted, ideal for level sensors mounted from the bottom of a tank.
The standard LVCSi is designed to fit a 21mm hole in the top of a tank, secured by its aluminium head, and has a ½ inch BSP thread. Sensing resolution is 5mm with measuring lengths of 250mm, 500mm, 750mm and 1000mm or 1250mm, 1500mm, 1750mm and 2000mm with Hall-effect sensing technology. It is housed in an aluminium instrument enclosure that screws to the top of a sensor stem and has a tempered glass viewing window.
Other mounting options and lengths are available – please contact us for more information.
All fittings inside the tank are made from 316L Stainless Steel and are welded to make a tough and durable sensor. The LVCSi is therefore ideally suited for use in food and petrochemical applications, and for use in harsh environments. It also has an IP rating of IP68.
The optional Modbus protocols allow for full remote monitoring and setup. The LVCSi conforms to the Modbus RTU and Modbus ASCII command and response framing standards as a slave device – please see the manual for details.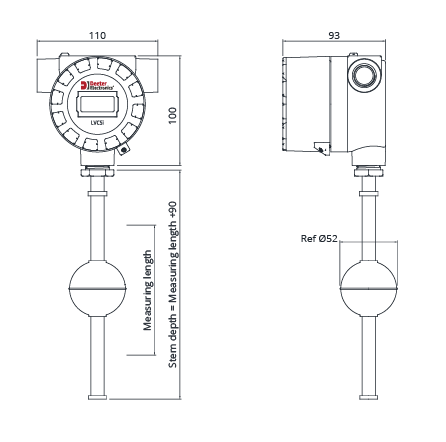 Technical Data
LVCSi-1 : Measured length L = 250mm
LVCSi-2 : Measured length L = 500mm
LVCSi-3 : Measured length L = 750mm
LVCSi-4 : Measured length L = 1000mm
LVCSi-HE5 : Measured length L = 1250mm
LVCSi-HE6 : Measured length L = 1500mm
LVCSi-HE7 : Measured length L = 1750mm
LVCSi-HE8 : Measured length L = 2000mm
Note: The overall length is 90mm longer than the measured length. Please ensure there is enough clearance in the tank.
All dimensions shown in mm.
Type
Specification
Head dimensions
110mm x 100mm x 81mm

(Excluding sensor stem and cable glands/port fixings)

Stem length
Standard sizes are from 250mm to 2000mm in 250mm increments. Custom sizes available on request.
Level sensing resolution
5mm (reed) or 15mm (Hall-effect)
Temperature sensing range
–40°C to +120°C (–40°F to +248°F)

(Note stem operating temperature ranges shown below)

Temperature sensing resolution
0.1°C
Max. temperature error
< ±1.0°C over the full sensing range (subject to correct calibration)
Current-loop output range
4-20mA (with 0mA fault indication)
Voltage output ranges
0-10V, 0-5V, 0-2V
Max. analogue output error
–0.3% to +1.0% full-scale (subject to correct calibration)
Transistor output
NPN open-collector

Maximum pull-up voltage of 36Vdc.

Current-limited to 50mA

Head operating temperature
0°C to 70°C (32°F to 158°F)
Stem operating temperature

Reed LVCSi

Hall-effect LVCSi

–20°C to +120°C (–4°F to +248°F)

–20°C to +80°C (–4°F to +176°F)

Power supply
15 – 30Vdc at 100mA
Fuse
500mA anti-surge Omni-Blok® cartridge
Mounting Options
½" BSP

Custom options available

Float Specific Gravity
0.65
Operating Pressure
Stem and float up to 60 Bar
[Download not found] [Download not found]
Ordering Code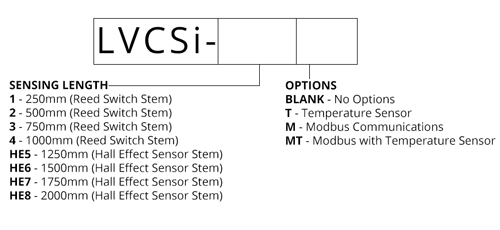 * Deeter Electronics Ltd follows a policy of continual development of its products and reserves the right to change specifications and/or features without notice