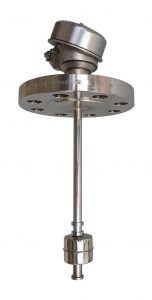 A Quick Reaction:
We at Deeter Electronics pride ourselves on our customer service and our ability to work closely with our customers to create a unique product to meet their bespoke requirements. With all of our development and production taking place in house, we can design and produce individual, customised solutions quickly and cost effectively.
So when a new contractor approached us recently to design a sensor for his customer, we jumped at the chance.
The customer had a problem.  They had an existing vessel with a very particular access.  It was only now, after the design, that they realised they needed a sensor to switch two alarms (high and high, high) only a few millimetres apart.  This would enable them to remotely indicate whether the tank was getting too full and save them lots of money in labour costs as a result.
As this was being added to their vessel, rather than built in to the original design, the customer needed a fast turnaround and for it to fit in a particular manner.
After getting an understanding of their application, we knew this particular flange fitting would be the easiest for them to install. As this was to enter a potentially hazardous area, it also required ATEX approval. Our extensive ATEX certification allows us to alter several designs, safe in the knowledge that this sensor is suitable for use in Zone 0.
Our ability to understand their process and issues enabled us to react quickly.  Within half a day of the initial enquiry, our customer was provided with a drawing and quote for this fully bespoke sensor, designed for their application.
Once the drawing and price was agreed, the sensor itself was manufactured and fully tested within 4 days. The end customer had originally expected a 4 – 5 week lead time for a custom item such as this (as they had been quoted elsewhere), so we were delighted to yet again go above and beyond our customers' expectations. The agility we are able to offer when a customer has a requirement is something we pride ourselves on here at Deeter Electronics. (It also certainly helps the reputation of the contractor!)
For more sensors and features in our F/S-FP range, please click here. For any other ATEX rated products, please see www.deeterelectronics.com/product-range/hazardous-area
If you are looking for a bespoke solution to match your specific needs, why not get in touch? With this and thousands of other possibilities available, our dedicated team of engineers can find a solution to work for you! www.deeterelectronics.com