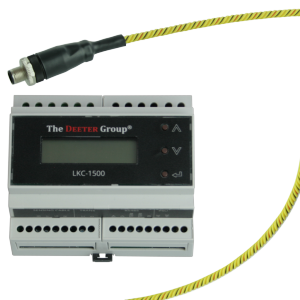 The Deeter Group is pleased to announce the newest addition to our range of Leak Detector Systems, the LKC-1500 Cable Leak Detector. Perfect for residential, commercial and industrial buildings, our new cable leak detector system is made up of an LKC-1500 controller as well as various lengths of sensing cable.
The LKC-1500 controller is able to identify a leak along the length of the sensing cable and has a variety of process outputs. These outputs include two SPDT relays to directly control mains powered pumps, valves or alarms, an open-collector transistor for connection to a programmable logic controller (PLC), building management system (BMS) or for indirectly driving further valves or pumps via an external relay and finally an RS485 serial communications port for remote monitoring. The controller is capable of detecting a broken or improperly terminated sensing cable, and the relay and transistor outputs can be assigned to respond to a leak or to a fault.
The length of sensing cable that can be used with each controller is between 15m and 1500m and the leak position is measured along this length of cable. An interconnecting cable can be used to connect two separate sensing cables together, giving users more flexibility when placing the cable.
For more information on this and other products from The Deeter Group, please contact us on +44 (0)1494 566046 or via email at [email protected].