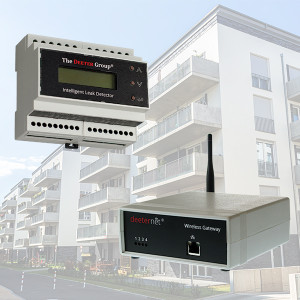 Water damage is one of the most common types of property damage and preventing this can save property owners a lot of money in the long run. Our Intelligent Leak Detector Sensors are able to detect even the smallest amount of moisture and will send a signal to the Intelligent Leak Detector Controller. The Controller can identify each sensor and provide information about the location of any leak whenever a leak is detected. The controller also has a variety of outputs which may be used to directly drive pumps and alarms, or to interface with other equipment such as a Building Management System (BMS).
When used in conjunction with the deeternet® Wireless Gateway it allows the monitoring of up to 1200 Intelligent Leak Detector Sensors at any one time. This combination of two of our newest products will be instrumental in preventing water damage in many different types of building including, but not limited to:
Apartment Buildings
Offices
Hotels
Resorts
Villas
Care Homes
Warehouses
Factories
Care Homes
Using this configuration the Wireless Gateway can be connected to the internet in order to allow the user to actively monitor the current status of all Intelligent Leak Detector Sensors within their system. The system can also be configured to allow users to remotely access the Wireless Gateway sensor data and they can be notified via email or SMS of the location of any leak that has been found. This allows any leak to be responded to as quickly as possible, avoiding any critical water damage to the property.
For more information, please get in touch via email on [email protected] or give us a call on +44 (0)1494 566046.